When David Adams was diagnosed with Type 1 diabetes in eighth grade, his future changed in an instant.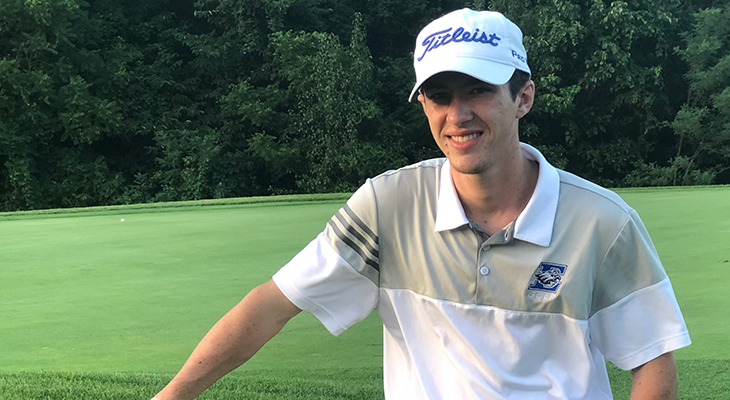 When David Adams was diagnosed with Type 1 diabetes in eighth grade, his future changed in an instant.
David planned on following in his father's footsteps by joining the Marines when he graduated from high school, but people with Type 1 diabetes are disqualified from military service. More immediately, David had to learn to manage his blood sugar day to day.
"At first, I was in denial," said David, who is now 17 and a high school senior. "I had to be convinced that it was an important thing to take care of. In the beginning, I didn't want anything to do with it."
David began giving himself several daily insulin injections. Before each meal, he would check a laminated sheet to calculate the dose based on the carbohydrates in the meal he was about to eat. David's carb factor was 12, so he would divide his total carbs by his carb factor to get his carb insulin units. Then he would take his blood sugar and subtract his target blood sugar, which was 120 at the time. He divided that number by 35, his correction factor for hyperglycemia insulin units. He added the carb insulin units to the hyperglycemia insulin units, factoring in ketones if necessary, to calculate his insulin dose. The process was arduous.
Six months into his diagnosis, David received the Tandem t:slim insulin pump and Dexcom continuous glucose monitor (CGM), eliminating the need for the arduous calculations. This made life easier, but some calculations were still needed; and David's blood sugar sometimes took big swings.
Refer a patient
Use Norton EpicLink to quickly and easily refer a patient to Norton Children's Endocrinology.
His CGM has a range of 40 to 400. Below 40 and the device simply reads "Low." Above 400, it reads "High."
"I had times where I ended up maxing out the numbers on my Dexcom," David said.
Last summer, David's diabetes management became a lot easier. Tandem released new software for the t:slim, and now David has a hybrid closed-loop monitor with Control-IQ technology. The device takes continuous glucose readings from Dexcom and adjusts accordingly.
"It's made everything so much easier for me," David said. "Now all I have to do, really, is put in carbs and just treat for lows."
Based on his blood sugar and the number of carbs with his meal, the device calculates how much insulin is needed and delivers it over a three-hour time frame.
The hybrid closed-loop system also gives small doses throughout the day, meaning David doesn't need to give himself a basal injection. He also doesn't need to carry a sports drink or snacks as often for times when he plays golf on his high school team or other activities that could cause hypoglycemia. The device has an "exercise" mode that compensates for activity so his blood sugar doesn't get too low.
"Exercise mode keeps your blood sugar highero you're getting optimal performance," David said. "I feel a lot better. I'm getting a lot more muscle, not just from work, but from being healthy. I feel great."
The device also has a sleep mode. David's mother, Beth Adams, said the hybrid closed-loop monitor has been life-changing for her, too. She used to spend her days repeatedly checking an app that relayed David's blood sugar level to make sure it was in the right range.
With support and guidance from the Wendy Novak Diabetes Institute team, David said he has now accepted his diagnosis.
"It's a part of me now. It's my life. I got to take control of it … and make the best of it," he said.
This year, David was admitted to a Jefferson County Public Schools school-to-work program. He works four to five hours most days of the week as a package handler at the UPS Worldport facility in Louisville.
The job has given him new career ambitions. He said he'd like to work for UPS when he graduates.
---