Maintaining the family-centered approach to care will be key to advancing the center's reputation for pediatric urology and spina bifida care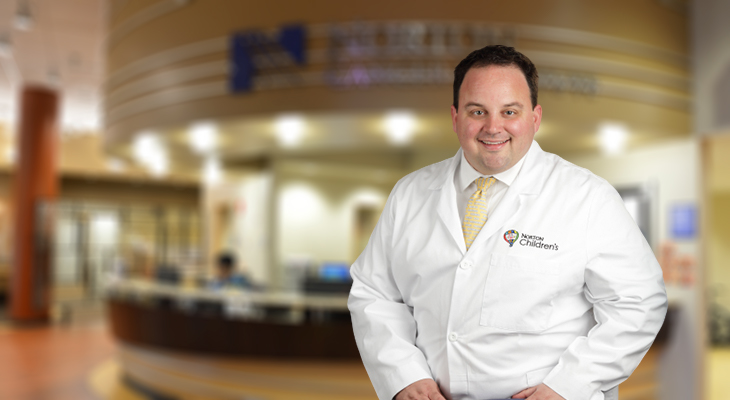 As the new chief medical director of Norton Children's Urology, affiliated with the UofL School of Medicine, Jeffrey T. White, M.D., Ph.D., wants to see the center gain national recognition for pediatric urology and spina bifida care. Key to that will be maintaining the family-centered approach to care that has made Norton Children's Urology stand out.
Dr. White assumed the new responsibilities June 1. He will continue to serve as staff urologist, assistant residency program director, and director of the Norton Children's Spina Bifida Clinic, leading a multidisciplinary team of neurosurgeons, orthopedic surgeons, physical and occupational therapists, spine surgeons, urologists and gynecologists.
Norton Children's Urology is ranked 26th nationally by U.S. News & World Report and is recognized as a regional leader. As the team works to further build its reputation, Dr. White said they will not lose sight of their focus on supporting the community.
"We care greatly about the community above and beyond urological care," he said.
In addition to improving its national reputation, Dr. White wants to grow pediatric urology at Norton Children's and expand care services for spinal cord injuries and the Norton Children's Spina Bifida Clinic. Multidisciplinary clinics ease the burden of care on families by offering multiple appointments in a single visit at the same location. They also foster collaboration, bringing a range of specialists' viewpoints to bear on each case.
Dr. White wants the multidisciplinary clinic to achieve national recognition by the Spina Bifida Association of America as a Clinical Care Partner. Clinics must meet ten standards defined by the association to receive that designation.
In his new role, Dr. White also plans to develop a research program to advance the field of pediatric urology and leverage new 3D technology to facilitate complex reconstruction surgeries and cancer care.
The 3D technology, called Surgical Theater, is capable of combining CT, MRI, fMRI and PET imaging into a single 360-degree, 3D color picture in virtual reality. The system, already in use by Norton Children's Neuroscience Institute, affiliated with the UofL School of Medicine, allows surgeons to simulate a procedure before setting foot in the operating room. Norton Children's was the first hospital in the region to use this cutting-edge technology.
Norton Children's Urology is already using advanced surgical technology, including robotic surgical assistance and urodynamics, a complex test to evaluate how the bladder works and empties.
"We are the only pediatric robotic surgical site in Louisville," Dr. White said. "We were the first in Kentucky, and we will continue to develop that tool in our delivery of urological care."
"We are the only center in the Midwest to offer sedated urodynamics studies," he said. "This caring intervention allows for a much more comfortable experience during testing."
The current pediatric urology team consists of two additional pediatric urologists, Katie L. Canalichio, M.D. and Laura B. Cornwell, M.D., as well as six advanced practice providers: Mary J. Foster, APRN, Elisha N. McAlmont, APRN, Allison B. Reynolds, APRN, DNP, Erin R. Sizemore, APRN, Patricia D. Walsh, PA-C, and Rain J. Wells, APRN.
As the team continues to grow, Dr. White said patients and their families will remain at the heart of everything that they do.
"We have added two care navigators to guide patients through Norton Children's. These team members ensure care is coordinated and delivered in a family-oriented environment."
Refer a patient
To refer a patient to Norton Children's Urology, visit Norton EpicLink to open an order for Pediatric Urology.
Looking towards the future, Dr. White plans to develop a pediatric urology fellowship program to train new pediatric urologists.
"That's how you really give back to the specialty," he said.
A native New Orleanian, Dr. White came to Norton Children's in 2018 after completing a pediatric urology fellowship at Baylor College of Medicine and Texas Children's Hospital in Houston, Texas. He received a Research Scholar Award from the American Urological Association during his fellowship.
Dr. White attended the Louisiana State University School of Medicine and Health Science Center in New Orleans, receiving both a medical degree and a Ph.D. in developmental cell biology and neurobiology. While pursuing his Ph.D., he was awarded a grant from the National Institutes of Health, the Ruth L. Kirschstein National Research Service Award from the National Institute of Diabetes and Digestive and Kidney Diseases.
He completed his urology residency program at the University of Texas Health Science Center in San Antonio, Texas, where he was chief resident.
Dr. White was recruited to Norton Children's by Dennis Peppas, M.D., the outgoing medical director and Dr. White's mentor during his residency training at the University of Texas Health Science Center.
---