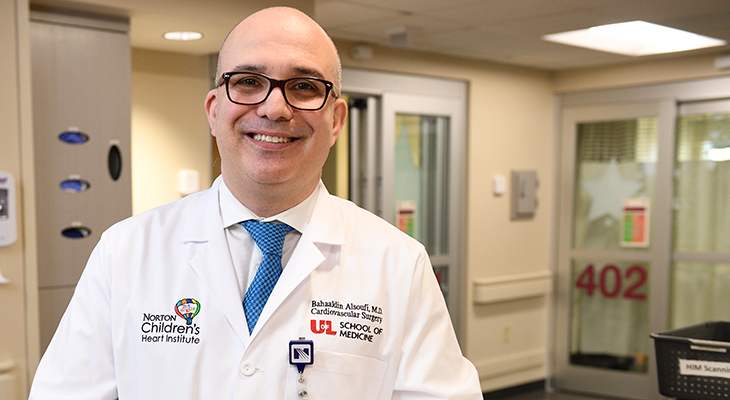 Bahaaldin Alsoufi, M.D., has joined the University of Louisville Department of Cardiovascular and Thoracic Surgery and Norton Children's Heart Institute at Norton Children's Hospital as the new chief of the division of pediatric cardiac surgery. He will practice with UofL Physicians – Cardiovascular and Thoracic Surgery. Dr. Alsoufi comes to Louisville from Emory University, Atlanta, Georgia.
"In Dr. Alsoufi, we have an accomplished teacher, researcher and clinician," said Mark S. Slaughter, M.D., chair of the UofL Department of Cardiovascular and Thoracic Surgery. "His expertise will be a great asset in contributing to our continued success in providing best-in-class care to our pediatric patients."
Norton Children's Heart Institute provides comprehensive, family-oriented care for patients of all ages born with congenital heart disease and for children with acquired heart conditions. Services include transthoracic, transesophageal and 3-D echocardiography; local and remote fetal cardiology consultations for prenatal diagnosis of congenital heart disease; an extensive telemedicine program for remote diagnosis of heart defects in children across Kentucky; open heart and hybrid surgery; electrophysiology to treat patients with heart rhythm disturbances; pediatric cardiac catheterization for specialized diagnostic and interventional procedures; an advanced heart failure program that includes mechanical heart pumps (ventricular assist devices) and heart transplantation; and an adult congenital heart disease program.
"We're excited to have Dr. Alsoufi join Dr. Erle H. Austin III and Dr. Deborah J. Kozik in helping us provide the most advanced care for children at Norton Children's Heart Institute," said Steven T. Hester, M.D., MBA, division president, provider operations, and system chief medical officer, Norton Healthcare. "Dr. Alsoufi will be part of a team that collectively performs more than 17,500 procedures annually."
Dr. Alsoufi is certified by the American Board of Surgery, American Board of Thoracic Surgery and the Royal College of Physicians and Surgeons of Canada. He served as associate professor with the Emory University Division of Cardiothoracic Surgery's Section of Pediatric Cardiothoracic Surgery. Prior to his appointment at Emory, Dr. Alsoufi served in a number of positions at King Faisal Specialist Hospital & Research Centre in Riyadh, Saudi Arabia. He is lead author or co-author on 150 peer-reviewed journal articles and has presented at more than 100 international, national, regional and institutional conferences.
Dr. Alsoufi is a native of Syria, where he earned his medical degree from Damascus University. He completed a general surgery internship at Union Memorial Hospital in Baltimore, Maryland, and a general surgery residency at the University of Massachusetts, Worcester. He went on to complete a cardiothoracic surgery residency at Oregon Health Science University, Portland; a fellowship in adult cardiac surgery at Toronto General Hospital, University of Toronto, Canada; and a fellowship in congenital cardiac surgery at The Hospital for Sick Children at the University of Toronto.
Dr. Alsoufi's appointment is pending approval by the UofL board of trustees.
To make a referral, use this form.
---