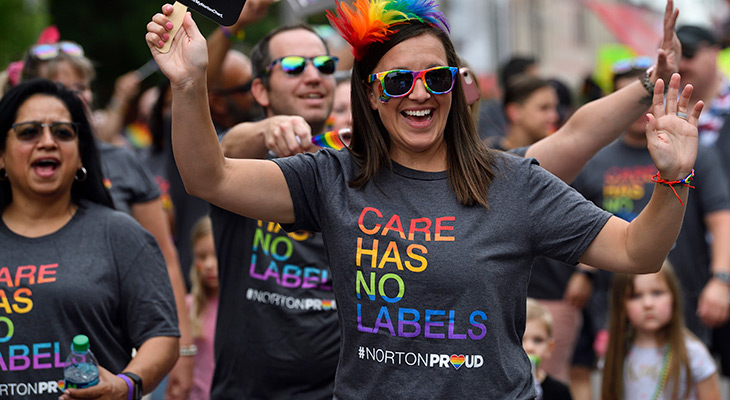 At Norton Healthcare, respect for every person means providing all those we serve with quality health care. It also means creating a positive work culture for our employees. Because of this, we are proud to announce we've been named a Leader in Healthcare Equality by the Human Rights Campaign.
The Human Rights Campaign's Healthcare Equality Index (HEI) is an annual survey that promotes and encourages inclusive care for LGBTQ people in healthcare facilities across the United States.
For the 2018 survey, 626 healthcare facilities actively participated and 67 percent of facilities scored 100 points, including Norton Healthcare.
"Providing quality patient care to all those we serve is part of the fabric that makes our organization great," Jorge De La Jara, system director, Inclusion and Diversity said. "While we are proud of this designation, we know there is more work to do and we are committed to building our reputation and expertise as an LGBTQ-inclusive health care provider and employer."
To help support the efforts of creating a safe, accessible care environment for our patients, medical staff or employed providers are encouraged to register for online courses provided through My Learning (LMS) on Nsite. Visit "Employee Services," click "My Learning" under Career & Learning and simply search "LGBT" to access several beneficial courses. For non-employed providers that do not have Nsite access, learn more here or contact the Inclusion & Diversity department at diversity@nortonhealthcare.org.
---