Children and adolescents with Type 1 diabetes have higher risks of developing depression, suicidal ideation and eating disorders. Treatment options and more can help.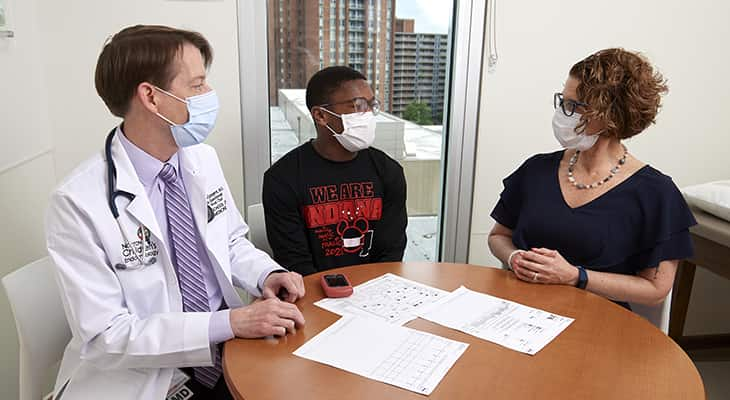 Children and adolescents with Type 1 diabetes have up to three times the risk of developing anxiety or depression and are at higher risk of suicidal ideation and eating disorders. Having anxiety and depression — and also having diabetes — can impact their lives significantly.
Addressing the mental health of children and adolescents is integral to diabetes care and central to the goal of optimizing health outcomes and health-related quality of life. The Wendy Novak Diabetes Institute, a part of Norton Children's Endocrinology, affiliated with the UofL School of Medicine, has developed an integrated behavioral health program. The embedded behavioral health team enables patients and families to meet with a behavioral health specialist during their regular diabetes appointments, or they can choose to schedule a separate appointment to meet with their behavioral health provider within the center.
Our mental health and physical health impact each other and this is abundantly clear in children and adolescents with Type 1 diabetes. Diabetes is treated through a self-management treatment model and requires intensive daily health management behaviors. There is a significant correlation between mental health and the ability for patients to manage their diabetes, as well as the reverse: Poorly controlled diabetes negatively impacts mental health.
Experiencing anxiety or depression can decrease frequency of blood glucose monitoring and insulin administration, which can affect overall glycemic control. This can result in a cyclical pattern, with high blood glucose levels impacting mood and motivation, and exacerbating depressive symptoms. Depression tends to lead to more hospital visits and admissions and an increased risk for complications, and is associated with worsening health outcomes.
Suicidal ideation is also more common in young people with Type 1 diabetes, compared with the general population. Suicidal thoughts, too, are correlated with nonadherence to a diabetes regimen. Anxiety related to fear of low blood glucose levels or excessive worry related to hyperglycemia and associated long-term health risks is another common challenge individuals with Type 1 diabetes may experience. Furthermore, disordered eating (such as restricting or avoiding food) is more prevalent in young people with Type 1 diabetes, especially among adolescent females.
Common among adolescents with Type 1 diabetes is increased prevalence of diabetes distress, or what we commonly think of as "diabetes burnout." Individuals may say things such as, "I don't want to have diabetes anymore; I'm over it." The young person with diabetes may not screen positive for anxiety or depression symptoms, but the arduous demands of management of diabetes can lead to emotional stress, both individually and within their family.
Refer a patient
To refer a patient to Norton Children's Endocrinology, visit Norton EpicLink and open an order for Pediatric Endocrinology/Diabetes Mellitus.
More than half of surveyed teens reported at least one serious concern related to living with diabetes, and those with diabetes distress also report reduced quality of life and increased family conflict. Diabetes distress is associated with a higher hemoglobin A1C level, which over time can result in high risk for medical complications.
Mental health professionals on the multidisciplinary team
Because of the mental health challenges faced by so many children and adolescents with diabetes, the American Diabetes Association (ADA) recommends mental health professionals be considered integral members of the diabetes multidisciplinary team. ADA guidelines recommend screening patients with diabetes for psychosocial stress and conditions such as depression, anxiety, disordered eating and cognitive impairments. The integrated behavioral health team at the Wendy Novak Diabetes Institute is able to implement approaches designed to help address and reduce anxiety, depression and other issues associated with the complex management of Type 1 diabetes in young people.
Cognitive behavioral therapy (CBT) is one approach that can be helpful with anxiety or depression. CBT, which often is combined with medical management, is built on the premise that thoughts, emotions and behaviors are all related. By working with a trained mental health professional, individuals can engage in thought evaluation, challenging and reframing to manage emotions, and ultimately make measurable behavior change. Additionally, relaxation training and mindfulness strategies are beneficial for patients with anxiety, and systematic desensitization can help with an individual who is fearful or has a phobia of needles, for example. Education on how to cope with a chronic illness, developing individualized programs to improve adherence to medical regimens, facilitating family communication around diabetes and biofeedback training are additional mental health treatment options that promote physical health. Addressing the behavioral component of a self-managed health condition such as Type 1 diabetes is associated with decreased average blood glucose levels and lower A1C level, and may improve their long-term health outcomes.
Mental health care for individuals with diabetes is critically important for improved health outcomes and enhanced quality of life. The ADA recommends assessing psychosocial issues and family stresses at initial diagnosis, as well as during follow-up care. The Wendy Novak Diabetes Institute has developed an integrated behavioral health team within medical health care team to provide collaborative, whole-health encompassing care for children and adolescents with Type 1 diabetes and their families.
Sheila Otten, LCSW, and Paula Struck, LCSW, are licensed clinical social workers who are part of the behavioral health care team within the Wendy Novak Diabetes Institute.
---