Using scheduled touch points for follow-up care, Norton Heart & Vascular Institute aims to drive down the readmission rate for heart failure patients and those who've had open heart surgery.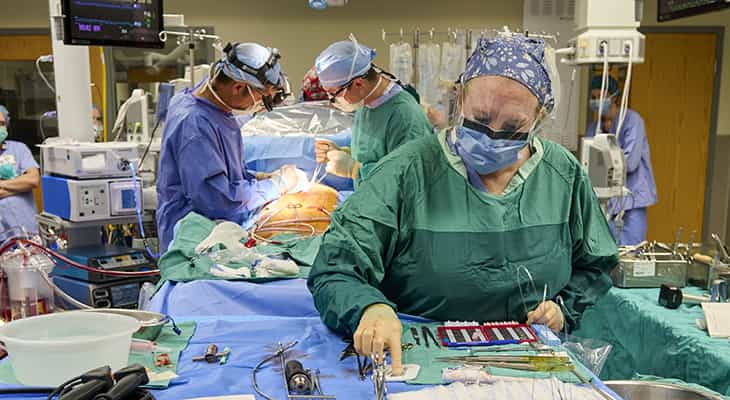 Using scheduled, intentional touch points for follow-up care, Norton Heart & Vascular Institute is aiming to drive down the readmission rate for heart failure patients and those who've had open heart surgery.
Mindful that heart failure readmissions typically happen in the first two weeks after discharge, all three touch points take place in that time frame.
Heart failure patients now receive a call from a nurse navigator within three days of discharge to make sure they have picked up their medication, understand their diagnosis and know what symptoms should concern them.
An advanced practice provider sees them five to seven days after discharge and again 14 days after discharge.
In another effort to drive down readmissions, Kyle Nauert, APRN, nurse practitioner, has worked with cardiac surgeons and other advanced practice providers to see open heart surgery patients after discharge via Norton Telehealth. This has driven readmissions well below the national average.
The telemedicine visits have been preventing readmissions for patients who don't necessarily need to come back.
If an open heart surgery patient comes to the emergency department within two weeks of surgery, a cardiothoracic surgery advanced practice provider and emergency department  providers assess the patient to determine whether they should be admitted or have an office visit on the next business day.
Efforts to keep patients out of the hospital whenever possible include same-day discharge for heart catheterization and electrophysiology patients, based on the American College of Cardiology safety criteria. Previously, these patients had to stay overnight.
Advancing heart care specialization
Norton Heart & Vascular Institute implanted 10 ventricular assist devices (VADs) in 2021 and started sending patients needing a heart transplant to the University of Kentucky Gill Heart & Vascular Institute in Lexington. Patients return to Louisville after several days and resume their follow-up care with our providers.
We also work closely with our UK Healthcare partners for advanced heart failure and VAD care.
Our providers' experience and expertise is accelerating, as we implanted more than 200 Watchman devices to close off the left atrial appendage and reduce or eliminate the need for long-term blood thinner therapy in patients with atrial fibrillation not caused by a heart valve condition.
Refer a patient
To refer a patient to Norton Heart & Vascular Institute, visit Norton EpicLink and choose EpicLink referral to Cardiology.
---
The first 200 Watchman implants occurred over five years. The second 200, now with the second-generation Watchman FLX, are expected by the end of 2022.
Additional advancements include:
Extracorporeal membrane oxygenation (ECMO) now has a dedicated adult team, separate from the pediatric program. Adult ECMO therapy had its busiest year in 2021, providing an invaluable service to COVID-19 patients and others.
In 2022, we'll establish a structural heart disease multidisciplinary clinic combining transcatheter aortic valve replacement (TAVR), Watchman and Mitraclip care. Cardiologists, electrophysiologists and cardiothoracic surgeons will work side by side, allowing for greater collaboration and seamless care for patients and providers.
The Norton Heart & Vascular Institute Young Adult Cardiology Clinic, led by Mostafa O. El-Refai, M.D., treats patients under 35 with no prior cardiac care conditions who have been seen for chest pain in the emergency department or primary care. The clinic is committed to prompt follow-up and will see these patients within seven days after emergency department discharge or after seeing their primary care provider.
Norton Heart & Vascular Institute is the only health system in Louisville that offers fractional flow reserve derived from computed tomography (FFRCT). This imaging allows the provider to see the percentage and level of blockage and stenosis in heart vessels, indicating whether the patient needs catheterization or can be managed with medical therapy.
For the first time, three of our adult hospitals received the American Heart Association's Mission: Lifeline Gold Plus STEMI/Chest Pain Receiving Center recognition, a great accomplishment for the providers and front-line staff.
Ann Marie Holas-Dryps is system vice president for Norton Heart & Vascular Institute.
---