Genetic testing should be considered in cases of severe short stature (height is below - 3 standard deviations) or if the height is below -2 standard deviations plus certain aggravating factors.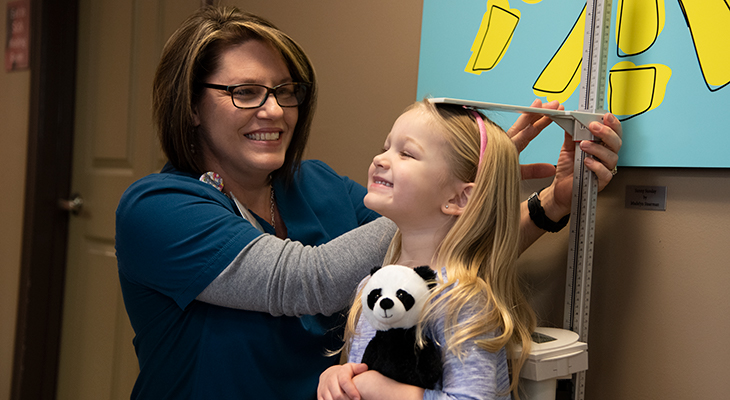 When a child is referred for short stature, pediatric endocrinologist Catalina Cabrera Salcedo, M.D., said providers first need to ask: Is the patient really short?
Dr. Cabrera Salcedo, an endocrinologist with Norton Children's Endocrinology, affiliated with the UofL School of Medicine, presented recently on "The Role of Genetic Testing in the Evaluation of Short Stature" at Pediatric Grand Rounds. Dr. Cabrera Salcedo is also an assistant professor of pediatrics at the medical school.
Presenting the case of a healthy, but short, 9-year-old girl, Dr. Cabrera Salcedo described how the patient was evaluated. Answering her first question, Dr. Cabrera Salcedo said the girl's height was measured at -3.8 standard deviations. Short stature is defined as 2 standard deviations or more below mean for children the same sex and age.
The girl underwent a standard endocrine evaluation, which includes growth factors and thyroid function. She was screened for celiac disease. Because she's female, she had a karyotype analysis to rule out Turner syndrome. She also was tested for chronic conditions, with a comprehensive metabolic panel (CMP), C-reactive protein (CRP) and complete blood count (CBC).
When the IGF-1 and IGFBP-3 levels were low, she underwent a growth hormone stimulation test to evaluate for growth hormone deficiency. Growth hormone deficiency was high on the differential, but the test was surprisingly normal.
Dr. Cabrera Salcedo also looked at family history, whether the girl had any dysmorphic features, and her growth velocity, which in a prepubescent patient will be 2 to 3.5 inches per year.
In this case, there was a strong family history of short stature. The girl's mother was 4 feet, 9 inches, and her mother's father and his mother were all short, so the patient's short stature seemed to follow a dominant mode of inheritance, according to Dr. Cabrera Salcedo.
Refer a patient
Use Norton EpicLink to quickly and easily refer a patient to Norton Children's Endocrinology.
Genetic test reveals missense mutation
At the time, Dr. Cabrera Salcedo was part of a research project, giving her the opportunity to do whole exome sequencing on the patient, affected relatives and healthy siblings. The genetic sequencing found short individuals in the family had a pathogenic missense mutation in the growth hormone gene.
A missense mutation occurs when the change of a single DNA base pair causes the substitution of a different amino acid in the resulting protein.
According to Dr. Cabrera Salcedo, before the genetic testing, the girl was misdiagnosed with idiopathic short stature, a relatively common diagnosis. A typical medical evaluation for children with short stature who were otherwise healthy and had a normal growth velocity had a diagnostic yield of only 1.3%, according to a 2013 study.
"Genetic testing still plays a very small role in the current standard evaluation," Dr. Cabrera Salcedo said.
Height is typically a polygenic trait, the combined effect of hundreds of genes. Nonetheless, in patients with severe short stature, patients often have mutations in single genes, resulting in large effects on height. As such, genetic testing can be revealing.
In the largest study of its kind, a team of researchers did phenotyping on 565 patients. This led to a diagnostic yield of only 13.6%. The researchers selected 200 patients for whole exome sequencing and found a genetic cause in 21% of syndromic cases and 14% of those with isolated short stature.
Genetic testing is not widely available in clinical practice and often is not covered by medical insurance. Even when testing is done, there are often novel genetic variants of unknown clinical significance, according to Dr. Cabrera Salcedo.
When to order genetic testing
According to Dr. Cabrera Salcedo, patients should undergo genetic testing if their height is below -3 standard deviations or if their height is below -2 standard deviations plus one of the following:
Severe growth hormone deficiency
Multiple pituitary hormone deficiencies
Growth hormone insensitivity
Small for gestational age with poor catch-up growth
Any dysmorphic features or concerns for skeletal dysplasias
Intellectual disabilities
Microcephaly
According to Dr. Cabrera Salcedo, genetic testing should also be considered if one of the parents has significant short stature.
---