Dr. Singh had been named co-medical director last year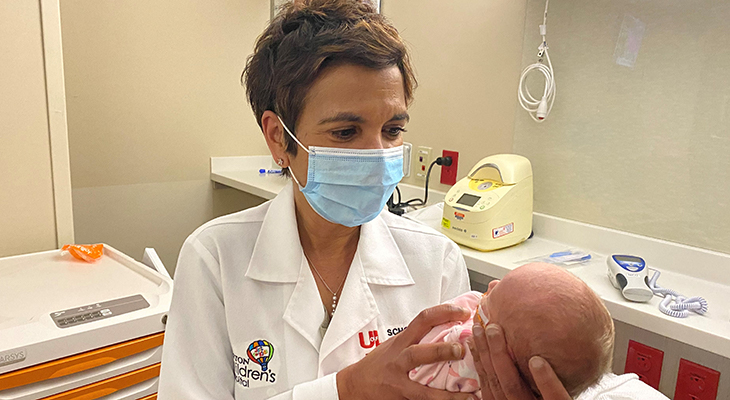 Tamina R.B. Singh, M.D., has been named medical director of the 101-bed Norton Children's Hospital neonatal intensive care unit (NICU).
Dr. Singh, who was named co-medical director last year, succeeds Dan L. Stewart, M.D., a neonatologist who led the unit for 15 years and helped shape the delivery of neonatal care across Kentucky, establishing the first NICUs in Paducah, Owensboro and Elizabethtown.
Dr. Stewart had served as NICU medical director since 2005, before becoming co-medical director last year. He is a recognized national leader in neonatal resuscitation and in the use of inhaled nitric oxide for pulmonary hypertension. He has authored nearly 100 articles in peer-reviewed journals and served two terms on the American Academy of Medicine policy-setting body, the Committee on Fetus and Newborn. Dr. Stewart will continue clinical activities in the NICU. Please join us in thanking him for his 15 years of leadership, and his continued commitment to providing exceptional care for our patients.
Dr. Singh joined the University of Louisville's Division of Neonatology after completing her fellowship at Cincinnati Children's hospital in 2007 and is also the director of neonatal cardiovascular services. She is a neonatologist with Norton Children's Neonatology, affiliated with the UofL School of Medicine. She has a strong interest in resident and fellow education, and is the physician liaison for medical students on rotations through the NICU. Her clinical and research interests include management of preoperative complex congenital heart disease; quality improvement and patient safety; antibiotic stewardship and bronchopulmonary dysplasia.
Keri A. Marques, M.D., has been named assistant medical director of the NICU at Norton Children's Hospital. Dr. Marques joined Norton Children's Neonatology in 2015 after completing a neonatal-perinatal medicine fellowship at the University of Vermont.
Dr. Marques' overarching goal for the NICU is to provide high-quality, evidence-based medicine for every infant. Her research interests include postpartum depression; implicit bias and inequality among medical professionals; and simulation-based medical education. Dr. Marques is active in the neonatal medical community, both as an author for the Cochrane Neonatal group and the leader of the Norton Children's neonatal neurology quality improvement initiative.
---