Young medulloblastoma patient avoids long-term neurocognitive sequelae of craniospinal radiation using high dose chemotherapy followed by autologous stem cell transplant.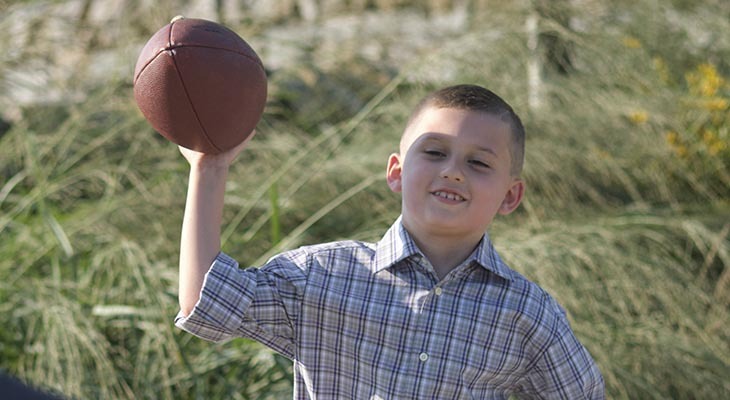 In 2016, not long after his 4th birthday, Jameson Milby began experiencing headaches, nausea and vomiting. The Milby family's pediatrician, James A. Tavelli, M.D., with Norton Children's Medical Group – Okolona, ordered an MRI, which showed a large brain tumor in the posterior fossa.
The following day, William C. Gump, M.D., pediatric neurosurgeon with Norton Children's Neuroscience Institute, affiliated with the UofL School of Medicine, performed a near gross total resection of Jameson's posterior fossa tumor. Pathology review identified the boy's tumor as a medulloblastoma.
At Norton Children's Cancer Institute, affiliated with the UofL School of Medicine, the multidisciplinary Neuro-oncology Clinic team thoughtfully reviewed Jameson's case at its monthly Tumor Board. The neuro-oncology team consists of three pediatric neurosurgeons, two pediatric neuro-oncologists, a pediatric neuroradiologist, a pediatric neuropathologist and a radiation oncologist.
"Whenever we have a new patient diagnosis and/or whenever we encounter crossroads in treatment decision-making, we always make sure we discuss each case with the entire
multidisciplinary team," said Michael Angelo Huang, M.D., pediatric hematologist/oncologist with Norton Children's Cancer Institute, co-director of the Neuro-oncology Clinic and an associate professor at the University of Louisville School of Medicine. "Different specialties all put their brains together to put out their best recommendations for the patient."
Medulloblastoma is the most common pediatric brain cancer, and Jameson's biological factors and molecular markers were all favorable.
By hearing the viewpoints of providers across multiple disciplines, Norton Children's Neuroscience Institute; Norton Children's Cancer Institute; and others, Jameson's care team was able to benefit from all the unique expertise and provide quality, successful care.
Autologous stem cell transplant to avoid risk of radiation-induced neurocognitive injury
The standard of care for a 4-year old like Jameson calls for craniospinal radiation followed by months of additional chemotherapy. This dose of craniospinal radiation at a very young age carries a significant risk of permanent neurocognitive injury.
Refer a patient
Use Norton EpicLink to quickly and easily refer a patient to the Norton Children's Neuro-oncology Multidisciplinary Clinic.
"Children receiving this type and dose of radiation before age 8 often experience trouble graduating from high school," Dr. Huang said. "A lot of people would look at this as black and white. If your child is older than 3 years of age, standard of care is for your child to get craniospinal radiation."
Rather than craniospinal radiation, the Neuro-oncology Clinic team recommended a different course for Jameson. Dr. Huang met with Jameson's parents to suggest an autologous stem cell transplant.
In order to safely receive three courses of high dose chemotherapy, where his white blood count would not have a chance to recover between rounds, Jameson was to receive a transplant of his own frozen stem cells. Following this approach, the team was able to limit Jameson's radiation to focal treatment for his tiny residual tumor.
There is an increasing amount of evidence supporting autologous stem cell transplant as a radiation-sparing approach for younger children with medulloblastoma. Because of the high risk of cognitive morbidity, the Children's Oncology Group, the largest consortium of pediatric oncology programs in North America, is strongly considering increasing the threshold age for craniospinal radiation from age 3 to at least age 5.
"We sat down with the parents and explained the risk versus benefits," Dr. Huang said.
Jameson's parents agreed with the recommendation to avoid craniospinal radiation.
Three years cancer free and excelling at school
Jameson completed 10 months of treatment and is now a second grader in Mount Washington, Kentucky. He is doing extremely well in school, and he has hit the three-year mark, cancer-free.
"The longer that window gets, the better the chance he will stay in the clear," Dr. Huang said.
According to Dr. Huang, Jameson's case is an excellent example of a multidisciplinary approach to offer individually customized care for each child.
"We are now in the era of tumor molecular profiling and personalized cancer care," Dr. Huang said. "We're doing that now universally for brain tumors and will be expanding to other high-risk pediatric solid tumors."
---