Details on the first five of 15 standards for addressing the emotional effects of pediatric cancer and its treatment.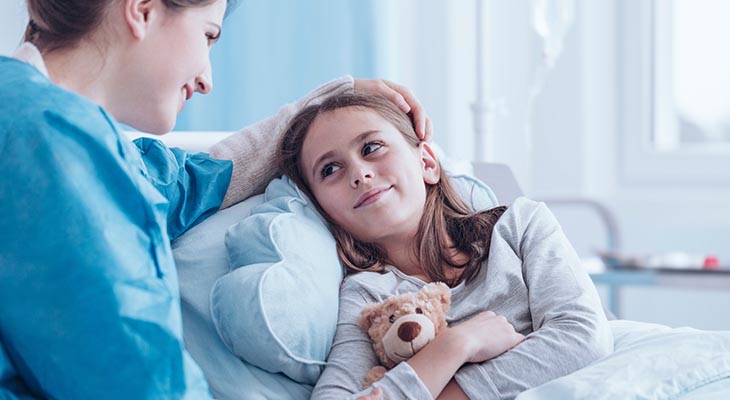 Addressing the emotional effects of cancer and its treatment on children and young adults can improve outcomes and help manage adverse effects of treatment.
Norton Healthcare is presenting a three-part series drawing from a recent continuing medical education (CME) opportunity on evidence-based standards for care as applied to pediatric cancer patients and their families.
The CME presenters are with Norton Children's Cancer Institute, affiliated with the UofL School of Medicine:
Sunnye Mayes, Ph.D., ABPP, a hematology/oncology psychologist and director of psychosocial services for pediatric hematology/oncology
Spencer Moorman, MSSW, LCSW, a licensed clinical social worker and project coordinator
Part 1 addresses the first five of the 15 evidence-based standards.
Implementing standards 1 through 5
1. Psychosocial assessment
The first standard involves assessing how the patient and family are coping with the cancer diagnosis. Norton Children's uses the Psychosocial Assessment Tool (commonly known as "the PAT") developed by Anne E. Kazak, Ph.D., ABPP,  to conduct the assessment. Questions aim to identify who lives in the home, what stressors the family is experiencing and what their positive and negative perceptions are in response to the child's cancer diagnosis.
"What Dr. Kazak's research has found is that families generally have a pattern of responses and are tiered according to this model," Dr. Mayes said, referring to Dr. Kazak's Pediatric Psychosocial Preventive Health Model which divides families into one of three categories based on their level of resilience and ability to cope. "Being able to provide this assessment helps us determine what level of help the families need, which helps us to allocate our resources more appropriately."
How to implement: The PAT can be administered repeatedly as part of ongoing treatment to provide the appropriate psychosocial care for the patient.
2. Monitoring and assessment of neuropsychological outcomes
Children who receive treatment or therapy that affects their central nervous system need intervention to help provide better neuropsychological outcomes such as ability to focus attention on schoolwork, short-term memory skills, and organization and planning tasks. Examples of these conditions and treatments include neuro-oncology, brain tumors, leukemias with intrathecal chemotherapy administration, cranial radiation and stem cell transplantation.
Refer a patient
Use Norton EpicLink to quickly and easily refer a patient to Norton Children's Cancer Institute.
"We are doing a lot to these kids to keep them alive, and unfortunately some of those things that we are doing will have some neurocognitive effects," Dr. Mayes said.
How to implement: Provide youth with periodic monitoring of neuropsychological and academic functioning via evidence-based assessments, and where needed, more targeted or comprehensive testing.
3. Psychosocial follow-up in survivorship
Assessment and interventions need to happen throughout survivorship, especially for teens and young adults.
"They are at risk for a lot of negative outcomes, whether those be adverse educational (outcomes), difficulty maintaining social relationships, having emotional distress associated with the treatment as well as engaging in basically almost every form of high-risk behavior," Dr. Mayes said. "We see greater instances of substance abuse and unsafe sexual practices, and all of the risky things that we don't want our teens and young adults to be doing."
How to implement: Provide long-term survivors with an annual psychosocial screening and provide anticipatory guidance to families at the end of treatment and during annual follow-ups.
Psychosocial interventions and therapeutic support
Psychosocial care needs to be provided to patients and their parents and families throughout treatment as well. While most children and parents show resilience or a small amount of distress, there is still a subset of patients and families who need assessment and intervention.
"We need to make sure that we're attending to the kids who have higher levels of anxiety and not just assuming everyone is on a low end," Dr. Mayes said.
How to implement: Ensure access to psychological support and psychiatry is available to patients and their families throughout the cancer trajectory. Provide screening and assessment at initial diagnosis and reevaluate as needed throughout the treatment process.
Assessment of financial burden
"There is a significant financial burden associated with pediatric cancer," Dr. Mayes said. "This is generally reported as parents' second-top stressor."
She notes that up to 94% of families may have their employment affected, either by taking time off, downgrading to part-time employment or even leaving their job altogether.
Factors such as distance from the treatment center (and associated travel costs) or single parent status should be assessed up front. Additionally, measures to address the stress that comes from financial hardship should be addressed.
How to implement: Determine if a family is at high risk for financial hardship at time of diagnosis. Refer to financial counseling and supportive services as needed. Assessment, reassessment and intervention should occur throughout treatment and into survivorship or bereavement.
Part 2: Helping pediatric cancer patients with the emotional effects of disease and treatment
---